Common Custom Woodwork Questions
Q: Do you offer a payment plan?
A: We don't personally offer payment plans but we have a coordinated effort with Paypal in which Paypal does offer various forms of payment including payment in full, Paypal Credit, and an installment plan. Please refer to Paypal's terms to learn more.
Q How long does it take to receive the furniture that I purchased?
A- Typical timing for production can range anywhere from 6-14 weeks. There are many factors that can sway this in either direction (supply issues, Covid, etc) but the average tends to be closer to 8-10 weeks. Your location plays a vital role in timing as well. For example, a customer in the same town as our shop would naturally receive their unit sooner than a customer from across the country. Bear in mind, everything we build is made to order and built specific to your specs and design. Custom furniture is a true art form!
Q Is the Butcher Block sealed?
A- All butcher blocks will be sealed and conditioned before hitting the road for delivery. We take a natural approach to sealing it by using food grade beeswax and mineral oils. There is minor care by reapplying more conditioner every few months. We will provide a cheat sheet on how to care for it and also a complimentary bottle of conditioner upon delivery.
Q: I noticed you don't have any stock photos. Are all of your photos from actual customers?
A: We prefer to show you what units look like when it's actually inside of a home rather than using stock photos. Each and every one of the photos you see are from the thousands and thousands of customers that we have serviced over the years! We pride ourselves on how unique each piece is for each home. Use these photos as inspiration on how you see one of our products fitting nicely into your own home.
Q: Do you have a showroom?
A: Currently, we are solely a manufacturing facility that produces fine furniture direct to consumer. However, we are actively looking into having a separate showroom for customers to see common products.
Q: Is my money safe with you?
A: Of course. We exclusively use Paypal which is considered the world's safest platform for merchant services.
Q Will the painted wood be rough to the touch?
A- We put our products through a rigorous 3 step sanding process to assist with getting you the smoothest finish possible. Remember, we are using nothing but solid wood and do not use any veneers or mdf. Those products are notorious for being able to give you that silky smooth paint finish but we would never consider using those subpar materials. They are the cheapest of the cheap. We all are guilty of purchasing something from a big name box store that looks great out of the box (most likely still had to be assembled as well) but ended up falling apart within a year.
Q: Is there a difference if I were to order here or on Etsy?
A: Not necessarily. You still receive the same service and product on this site as Etsy but pricing could be slightly skewed due to Etsy's fees.
Q: Do you offer staining?
A: Staining is only accepted by special request. Contact us for your staining info.
Q: Do you keep anything in stock?
A: From time to time we will build duplicates of another custom order but the majority of what we build is completely custom and made to order specifically for the customer that made the specific purchase. With so many variations to choose from it would take a massive warehouse to keep all of that in stock!
Q: How long have you been in business?
A: As of April, 2022 we have been in business for 10 exciting years!
Q: Is everything really made out of solid wood?
A: Our business was solely founded on the notion that the majority of consumers are sick of the cheap stuff. We exclusively use solid wood, the majority of it being pine. The one exception to this is the exterior of kitchen islands in which we use birch plywood for the picture frame exterior, which is still an extremely high-end product.
Q: Do you use CNC machines?
A: No. While we aren't against an actual CNC machine, our business model is one of which actual hands with rolled up sleeves diligently worked on your furniture right from scratch one piece at a time.
Q: Do you really make your own deliveries?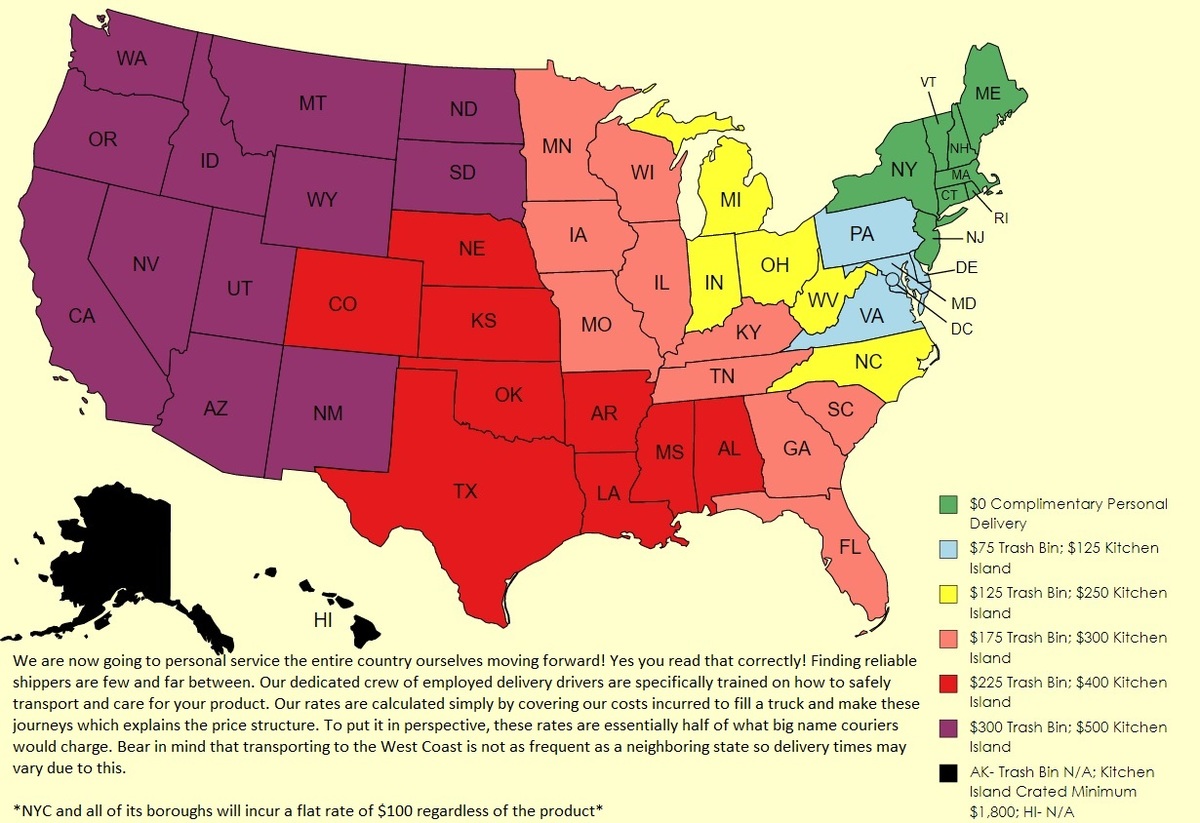 A: We sure do! That is the beauty of ordering from us. You will be getting the full service from a-z. From design all the way to delivery we will be the ones handling your project right from day one. Bear in mind that our evolving delivery footprint is slightly limited but we are actively working with a select handful of independent shippers that journey further than our own personal reach. They are qualified just as much as our drivers to transport and deliver your items safely and securely.
A: No. We are not a scam. We understand that in this day and age that there are bad people out there but we are not those people. We are real people simply trying to provide for our families just like you. We've been featured on news programs and publications to name a few.
Q: I want to buy a kitchen island with a 36" depth top but I'm afraid it won't fit through my doorways.
A: Not a worry. We are trained to leave your top detached from the base, set the base into place, then attach the top as necessary once the base of the island is in place. We also show you how this is done so in the event that you move then you will be able to bring the kitchen island with you.