Wood You Build It brings craftsmanship to the next level. It's not just the quality behind the projects, it's the full package.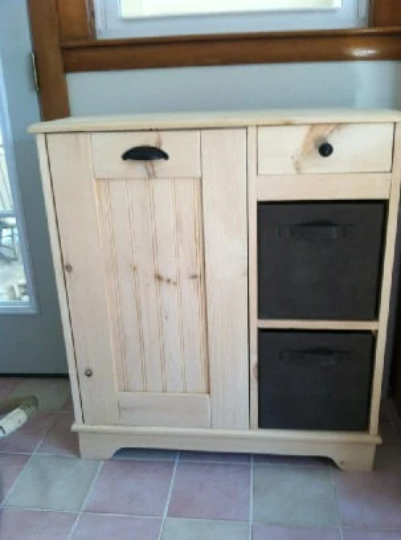 How it all began
I love telling the story of how it all began because even if it inspires one other person to fulfill their dreams then it'll be a sense of accomplishment. Back in 2011, my wife Kate had just given birth to my daughter Lexie. At the time, we were hanging a plastic bag on the back of the kitchen door and that acted as our actual trash barrel. She had asked me to build something to hide the trash, knowing well that one day our daughter would be crawling and getting into the trash.
At the time I had very little woodworking history but still managed to sit down and ended up designing a piece that I considered would fit the area we had to work with. There was one problem though...we didn't have the money to purchase the supplies for this unit. Instead, I ended up salvaging old floor boards from the attic we were living in, sanded the 60 years worth of aged soot off of the boards, and there you have it, the very first trash bin. Fast-forward a couple of months…I come across an interview of the CEO of Etsy at the time explaining what the site was and how it was geared towards handcrafted items. I decided to take a picture of our unit (without my wife's knowledge, mind you!) Within 2 hours the unit was sold. This is where we insert "and the rest is history!"
We are extremely grateful and blessed to have worked tirelessly to become one of Etsy's largest accounts over the course of time.
What started out with myself working in my basement, has now become an endeavor of over a dozen employees and we now manufacture out of a 25,000 sqft facility.
Looking back through the years there have been so many ups and downs but the passion and support from our supporters is something that never goes unnoticed. We have dedicated so much time and effort since 2012 to help bring awareness back to the city of Gardner, MA which at one time was considered the furniture capital of the world.
With deindustrialization and overseas manufacturing, that title has all but disappeared. We are trying to bring that title back to the city for which it rightfully deserves, one customer at a time.